Workshop: Personale Gebrauchsweisen digitaler Bilder
Datum: 28.10 & 29.10.2022

Veranstaltungsort: Universität Wien, C3 - Centrum für Internationale Entwicklung, Sensengasse 3, 1090 Wien, Alois Wagner Saal (Erdgeschoss)
Freitag, 28.10.2022
10:30 Ankommen, Vorstellung, kurze Einführung
11:00 - 12:30 Anne Sonnenmoser. Bilder-Spiele. Zur personalen Aneignung visueller Medien im Fallbeispiel Cosplay
12:30 - 13:30 Mittagspause
13:30 - 15:00 Roswitha Breckner, Elisabeth Mayer, Simone Feichter. Über - Leben(s) - Kunst. Ein
Falltypus biographischer Bildarbeit auf Social Media
15:00 - 15:20 Pause
15:20 - 16:50 Aglaja Przyborski. Visualisierte Identität - Digitalisierte Dating Praktiken
16:50 - 17:30 Allgemeine Diskussion
18:30 Gemeinsames Abendessen, falls gewünscht:
Zur Goldenen Kugel, Lazarettgasse 6, 1090 Wien, Tel. 405 83 63
Samstag, 29.10.2022
11:00 - 12:30 Marc Dietrich, Günther Mey. (Audio-)Visuelle Grounded-Theory-Methodologie
12:30 - 13:30 Mittagspause
13:30 - 15:00 Michael R. Müller. Visuelle Idiome
15:00 - 15:15 Pause
15:15 - 16:30 Konzeptionelle und konkrete Planung einer Publikation
Filmvorführung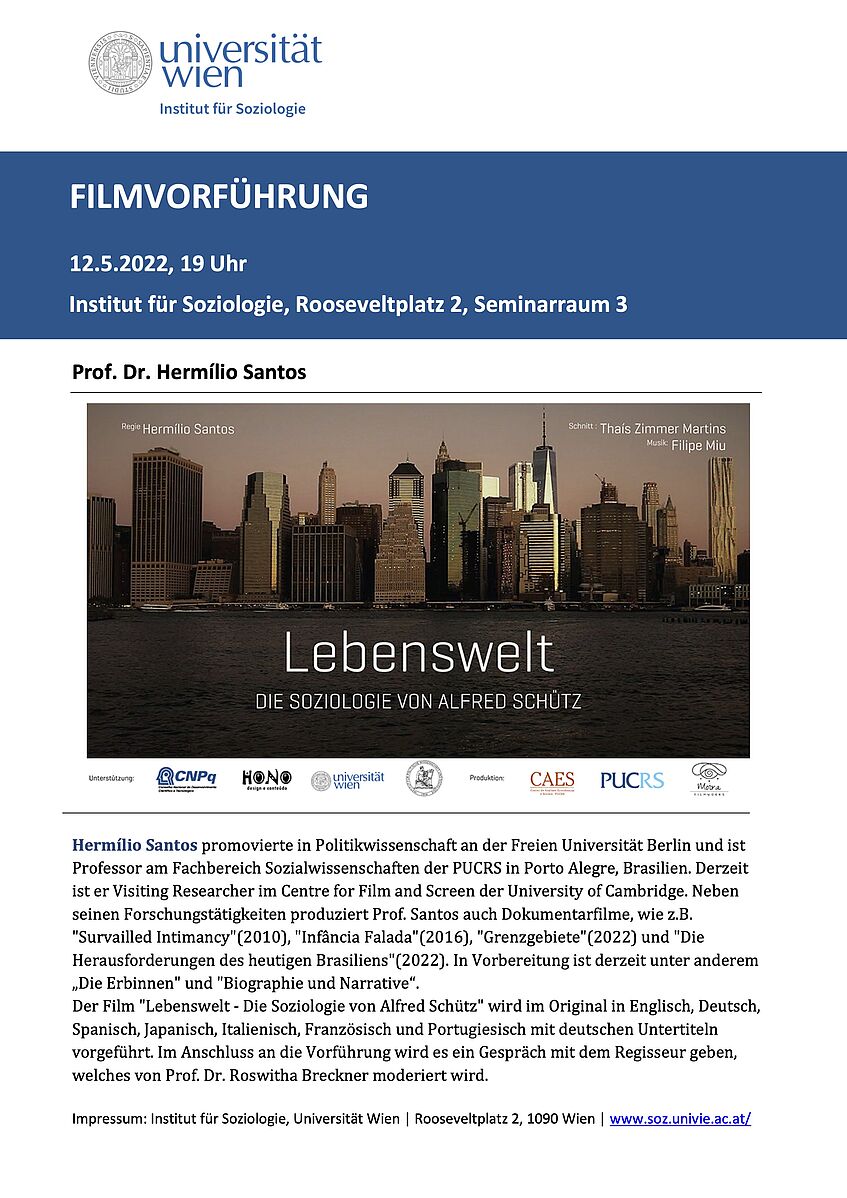 Filmvorführung
Datum: 12.5.22, 19h
Ort: Institut für Soziologie, Rooseveltplatz 2, Seminarraum 3
Hermílio Santos promovierte in Politikwissenschaft an der Freien Universität Berlin und ist Professor am Fachbereich Sozialwissenschaften der PUCRS in Porto Alegre, Brasilien. Derzeit ist er Visiting Researcher im Centre for Film and Screen der University of Cambridge. Neben seinen Forschungstätigkeiten produziert Prof. Santos auch Dokumentarfilme, wie z.B. "Survailled Intimancy"(2010), "Infância Falada"(2016), "Grenzgebiete"(2022) und "Die Herausforderungen des heutigen Brasiliens"(2022). In Vorbereitung ist derzeit unter anderem "Die Erbinnen" und "Biographie und Narrative".Der Film "Lebenswelt - Die Soziologie von Alfred Schütz" wird im Original in Englisch, Deutsch, Spanisch, Japanisch, Italienisch, Französisch und Portugiesisch mit deutschen Untertiteln vorgeführt. Im Anschluss an die Vorführung wird es ein Gespräch mit dem Regisseur geben, welches von Prof. Dr. Roswitha Breckner moderiert wird.
Vortrag: An den Grenzen der Sozialwelt - Soziomorphe Maschinen als Herausforderung der Taxonomie sozialer Akteure
Prof. Dr. Michael R. Müller, TU Chemnitz
Für das Design von Robotern, für deren sozialwissenschaftliche Analyse und für die gesellschaftliche Diskussion über solche und vergleichbare nicht-triviale Maschinen ist seit der Romantik bis heute ein anthropomorpher, am Vor- und Idealbild des Menschen orientierter Denkstil kennzeichnend. Im Rahmen des Vortrags wird aufgezeigt, dass zeitgenössische Entwicklungen und Designs diesen Denkstil in Richtung eines neuen, soziomorphen Paradigmas unterlaufen. Dies kann - so die These - nicht ohne Auswirkung auf die grundbegriffliche soziologische Beschreibung der Interaktion von Mensch und Maschine bleiben.
Wann: 29.03.2022, 17-18.30h
Wo: Institut für Soziologie, Rooseveltplatz 2, Seminarraum
---
Im Anschluss an den Vortrag präsentieren Studierende Ergebnisse aus einem zwei-semestrigen Forschungslabor "Visuelle Kommunikation in Sozialen Medien". Weitere Informationen:
Exhibition: Visuelle Selbstinszenierung auf Social-Media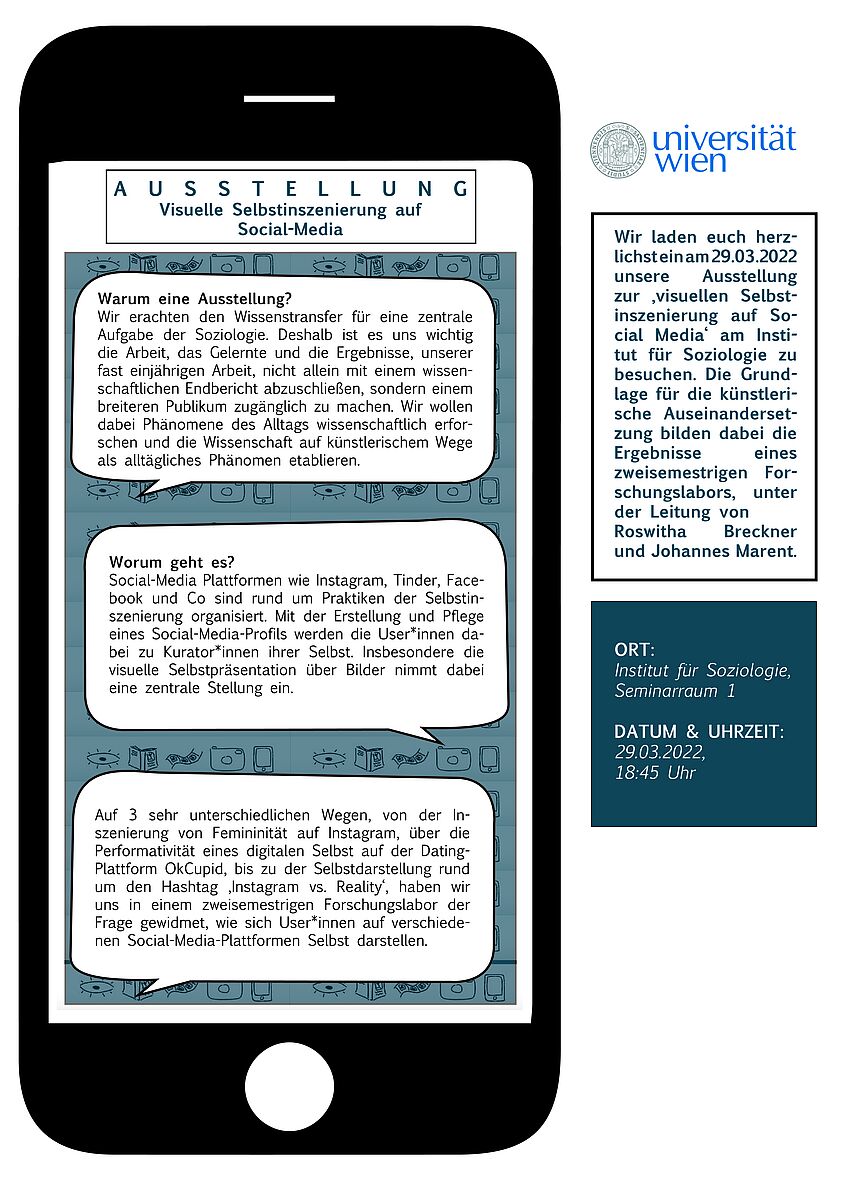 Exhibition: Visuelle Selbstinszenierung auf Social-Media
Wir laden euch herzlichst ein, am 29.03.2022 unsere Ausstellung zur 'visuellen Selbstinszenierung auf Social-Media' am Institut für Soziologie zu besuchen. Die Grundlage für die künstlerische Auseinandersetzung bilden dabei die Ergebnisse eines zweisemestrigen Forschungslabors, unter der Leitung von Roswitha Breckner und Johannes Marent.
Ort: Institut für Soziologie, Seminarraum 1
Datum & Uhrzeit: 29.03.2022, 18:45 Uhr
Kontakt: lissa.weiser@googlemail.com
Die Ausstellung findet im Anschluss an Michael Müllers Vortrags zum Thema "An den Grenzen der Sozialwelt – Soziomorphe Maschinen als Herausforderung der Taxonomie sozialer Akteure" statt, der um 17:00 Uhr beginnt
virtual book presentation & discussion with authors